When your ads need words that make an instant impact
Effective advertising copy must connect with your key audiences, but that's only the beginning, because it has to motivate them to take the action you desire.
For nearly three decades, I've been developing advertising copy that creates results by delivering what your audience wants and needs to hear.
While ad copy can be fun, edgy, concise, or any of dozens of other things, it's absolutely critical that it be effective, because its ultimate goal is to affect the reader's behavior or perception. I'm far less interested in impressing other copywriters than in creating the right impression among your audience.
Shapiro's Delicatessen, Indianapolis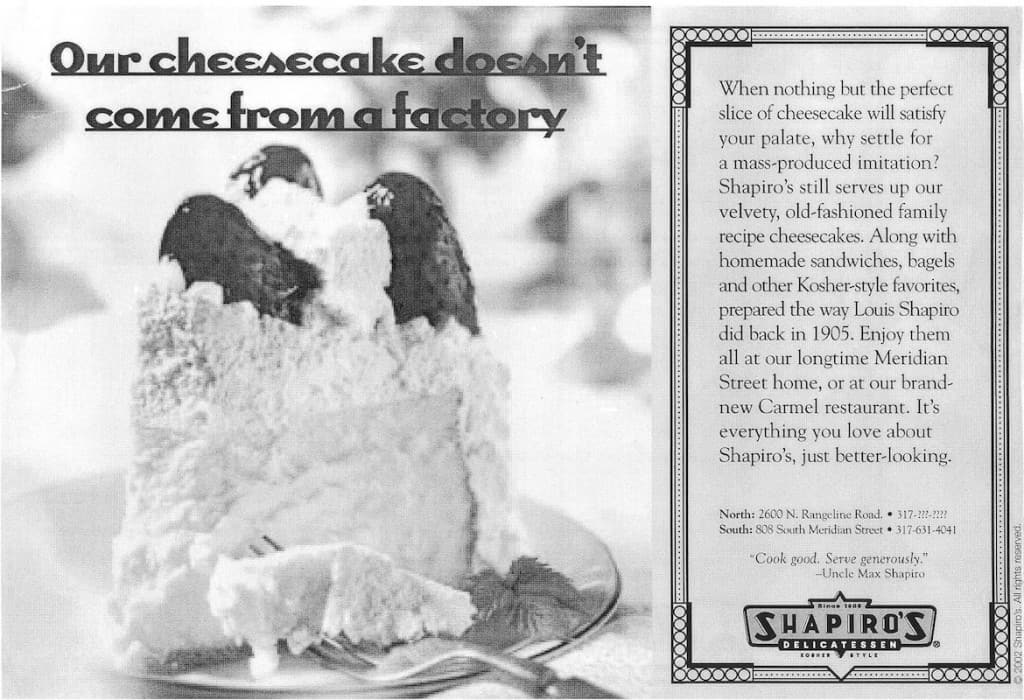 (With Scofield Design+Communications)
Objective: Create contrast with large-chain competitor.
Description: Magazine ad.
Excerpt: When nothing but the perfect slice of cheesecake will satisfy your palate, why settle for a mass-produced imitation? Shapiro's still serves up our velvety, old-fashioned family recipe cheesecakes. Along with homemade sandwiches, bagels and other Kosher-style favorites, prepared the way Louis Shapiro did back in 1905. Enjoy them all at our longtime Meridian Street home, or at our brand-new Carmel restaurant. It's everything you love about Shapiro's, just better-looking.
Chicago Hilton & Towers Hotel, Chicago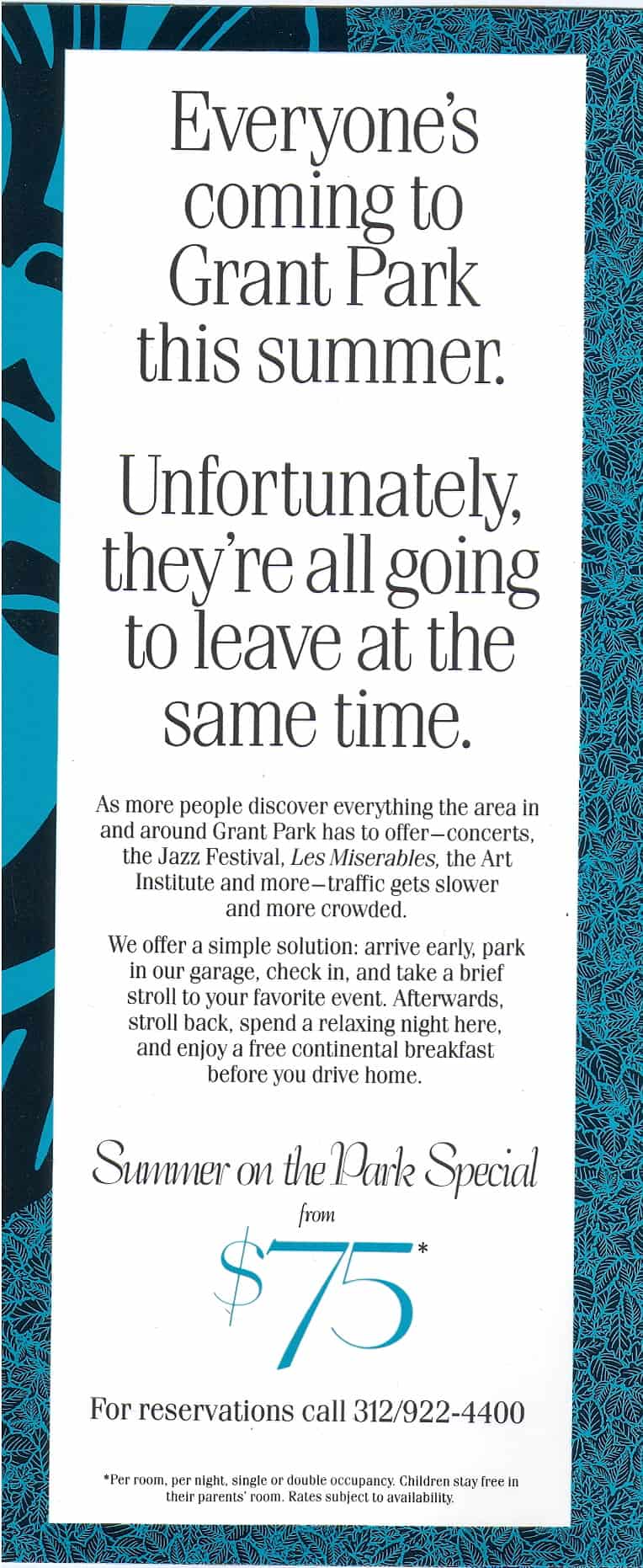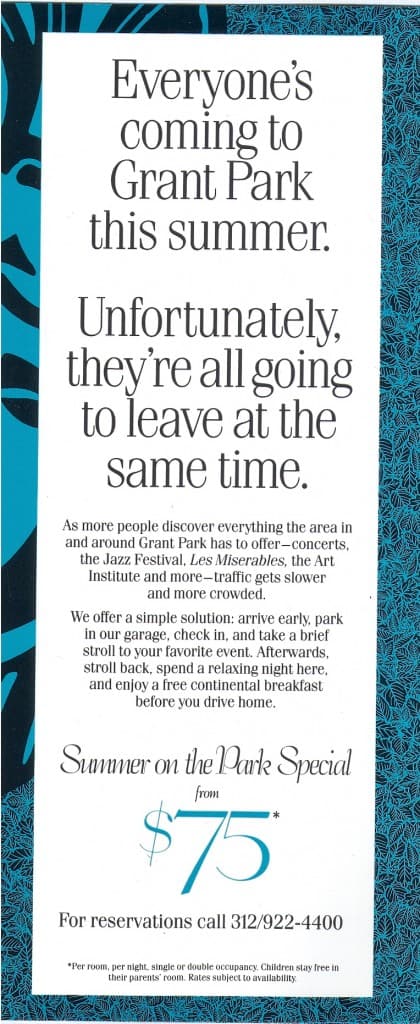 (With Smith, Badofsky & Raffel)
Objective: Increase bookings during special events.
Description: Table tent.
Excerpt: As more people discover everything the area in and around Grant Park has to offer – concerts, the Jazz Festival, Les Miserables, the Art Institute and more – traffic gets slower and more crowded. We offer a simple solution: arrive early, park in our garage, check in, and take a brief stroll to your favorite event. Afterwards, stroll back, spend a relaxing night here, and enjoy a free continental breakfast before you drive home.
Morellis Cleaners, Indianapolis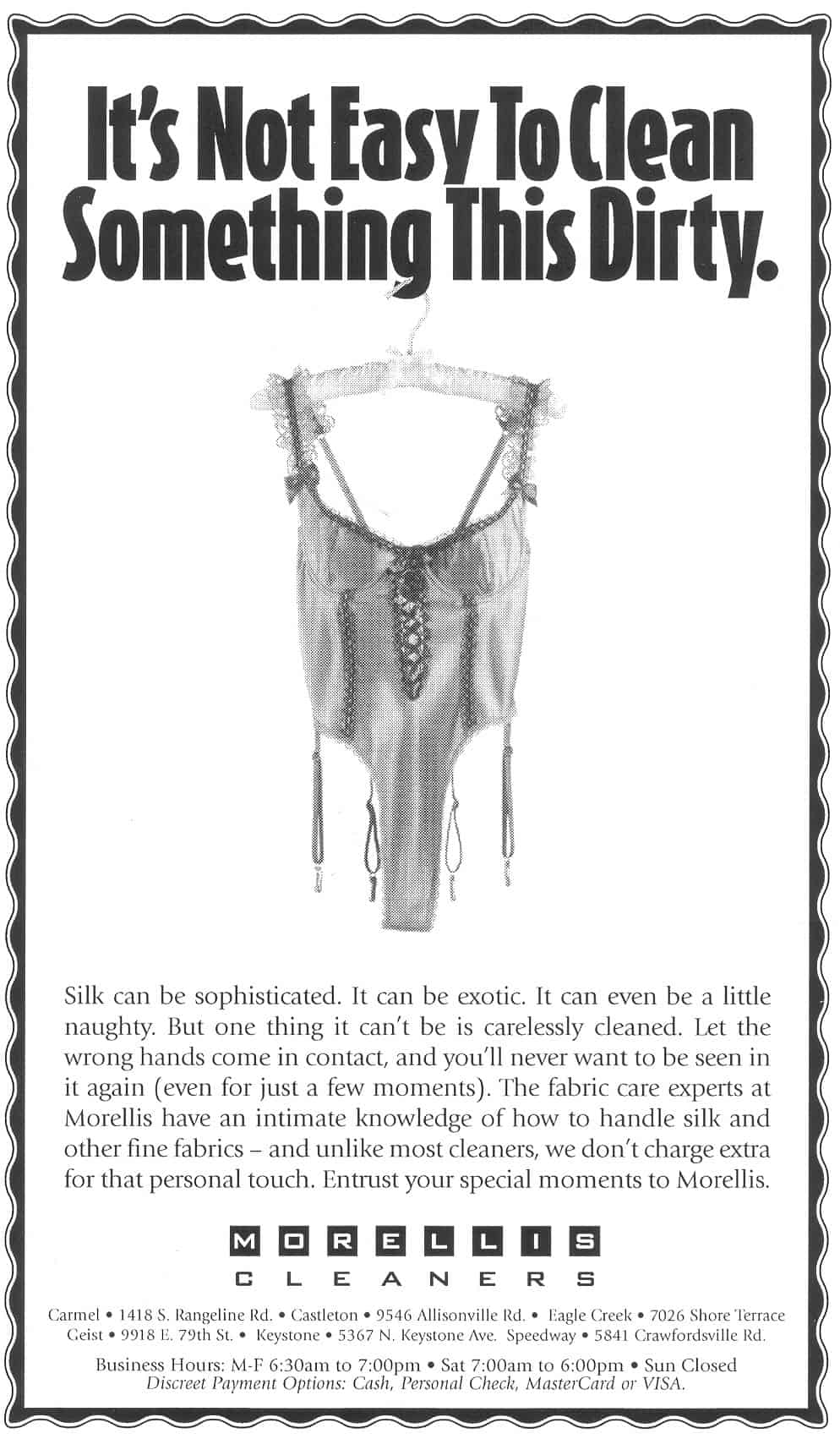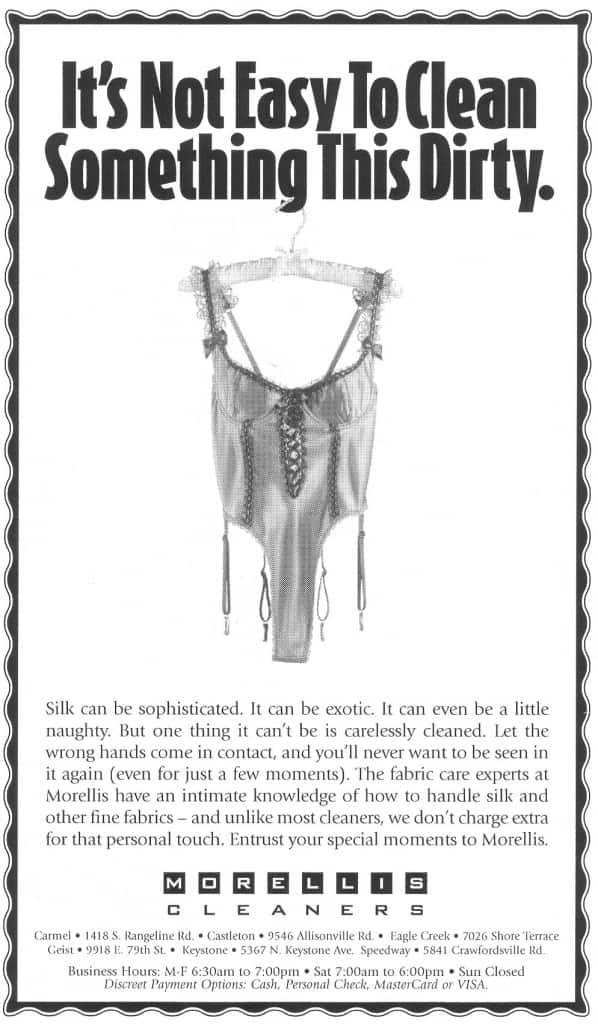 (With Scofield Design+Communications)
Objective: Establish specialized expertise.
Description: Newspaper ad.
Excerpt: Silk can be sophisticated. It can be exotic. It can even be a little naughty. But one thing it can't be is carelessly cleaned. Let the wrong hands come in contact, and you'll never want to be seen in it again (even for just a few moments). The fabric care experts at Morellis have an intimate knowledge of how to handle silk and other fine fabrics – and unlike most cleaners, we don't charge extra for that personal touch. Entrust your special moments to Morellis.