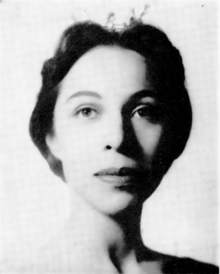 I just learned that my first client died in early April, and as is often the case in such situations, news of her death triggered many memories. She was one of the nation's leading celebrities for many years, but unlike so many of today's fading stars who claw for one more desperate moment in the spotlight, she had gracefully exited from center stage long before we met.
Her name was Maria Tallchief, and at the peak of her career in the 1940s, she was the prima ballerina for the New York City Ballet. More than that, she was widely considered to be America's first true prima ballerina. At 17, she arrived in New York City and landed an apprenticeship in a ballet company. One of the dancers became pregnant, and Mme. Tallchief stepped into her role. Soon, the American dancer's talent eclipsed that of the Russians in the Ballet Russe de Monte Carlo, where she met and soon married celebrated choreographer George Balanchine.
Our paths crossed in 1982, when she established the Chicago City Ballet. A donor had strong-armed an ad agency into publicizing the new company, and the agency wanted to find someone who could handle the process without losing money. In other words, someone who could get the job done and work for next to nothing.
My resume landed on the agency manager's desk, and when he learned that I had crafted a highly successful publicity program for my college theatre company, he asked if I'd be willing to do the same for his new client. I knew nothing about ballet, but did know a thing or two about working with editors and reporters. Two months after graduating in the depths of a recession, I was working in an office on the Magnificent Mile.
It was a whirlwind, as I established connections and found myself chatting with newspaper reporters and columnists I had read and admired for years. I fed items to the gossip columnists, and when Balanchine lent his current prima ballerina, Suzanne Farrell, for a production of Cinderella, I staged a photo shoot beneath the clock at Marshall Field's. I also participated in events like cocktail receptions, nibbling fancy hors d'oeuvres among the doyennes of Chicago's old-money society; women with surnames like Rockefeller and McCormick. This fish from the Southeast Side's grimy world of steel mills and refineries was far from familiar waters.
I didn't work directly with Mme. Tallchief, and our few conversations involved simple pleasantries. But the icon of American dance was always gracious, and never treated the nervous kid in a cheap suit from Sears like he didn't belong. She always greeted me with an engaging smile that began in her eyes, and carried herself with the elegance and dignity of a ballerina. I vividly remember that smile three decades later.
It wasn't destined to be a long relationship; the ballet company never gained the financial support it needed and soon ended the agency's contract. I shifted to challenges for clients that included a chain of technical schools and the Chicago Board of Trade. But that baptism of fire was the first step in many that brought me to where I am today. I'll always be grateful to Mme. Tallchief, both for the opportunity she indirectly created for me, and for her memorable kindness. May her spotlight forever brighten the night sky.