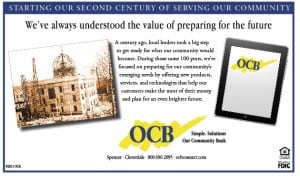 Being an established business or organization can easily cut both ways. On the one hand, longevity can inspire confidence and respect. But on the other, it can easily saddle you with an image that's old-fashioned and stodgy.
That's a particular problem for community-based banks. While they may be the bedrock of their communities, many have been slow to modernize and embrace technologies that their aggressive big-city counterparts have promoted.
Our Community Bank in Spencer, Indiana faced that challenge. Once a sleepy small-town thrift, the bank had in recent years become an impressive local innovator, launching technology-based products well ahead of its local (and many regional) competitors. From text banking to sophisticated online applications, OCB anticipated customer needs. But at the same time, the bank's leadership didn't want to walk away from a century-long reputation as a friendly community bank.
Scott Flood Writing helped OCB accomplish both objectives through a campaign that paired elements of local community history with the bank's current commitment to technology. Ads featured sepia-toned historical photographs of community landmarks, along with images of tablet computers and smartphones that displayed applications. Brief copy drew the connections between the two and reinforced the bank's commitment to serving the financial needs of the community then and now. The campaign was so well-received that it even inspired a coffee-table book of historical photography contributed by customers.