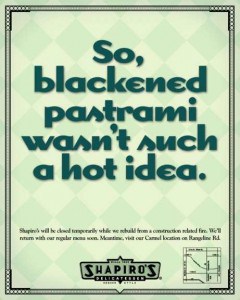 You operate a century-old restaurant that everyone loves, but often forgets when faced with all sorts of well-advertised chains. How do you bring people back to the table?
Shapiro's Delicatessen has been serving corned beef and pastrami sandwiches and other Kosher-style deli fare to Indianapolis residents since Louis Shapiro found his way to the Circle City just after the turn of the last century. The restaurant was still a local favorite (and even managed to impress visiting New Yorkers), but saw its business facing tougher competition.
Scott Flood Writing and Scofield Design+Communications recognized that Shapiro's didn't need to invent an image. Its longstanding heritage was the perfect starting point for a campaign that used gentle Jewish-toned humor to poke fun at competitors' menus and characteristics. ("Nail a rusty trumpet to the wall, and you've got a great place for dinner?" or "Our cheesecake doesn't come from a factory.")
When the landmark downtown location suffered a kitchen fire, the owner asked for a poster to explain the temporary closing. "So, blackened pastrami wasn't such a hot idea" was a wry message that filled the bill and even led to some friendly coverage on the local TV stations.