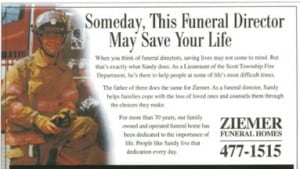 How do you convince people that your business is truly a part of the community when they only associate you with death and sadness?
Like most family-owned funeral homes, Ziemer Funeral Homes had been experiencing growing pressure from roll-ups of local competitors and other national chains. They wanted to remind potential customers that they are truly local businesspeople who hope to serve the community for decades to come.
Scott Flood Writing and Ten Adams Advertising & Marketing delivered that message in a series of consumer ads by focusing on the services individual employees provide to the community when the workday is done, demonstrating that their caring extends beyond their jobs.
The example illustrated here celebrates one funeral director's service as a volunteer firefighter, an effective, life-affirming counterpoint to the traditional perception that funeral directors are interested only in death.