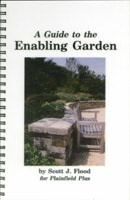 Designing a garden to accommodate the special needs of people with disabilities is a wonderful idea, but only if the intended users understand how the design works with them. When the Plainfield Plus community group secured a grant to establish such a garden in the town's Friendship Gardens park, that's why they included funds to create a guide to the garden and asked Scott Flood to develop it.
The book provides details of the garden and shows how its various elements address different disabilities, such as raised beds that reduce the need for stooping, and plants with scent and touch characteristics that can be appreciated by people with visual impairments. Just as important, the book detailed how people could duplicate those features in their own gardens.
The design of the book also provided accommodations. The text was set in a large serif typeface to make it easier to read. It had small pages printed on a heavier stock to accommodate those with arthritis and similar joint problems. And the spiral binding allowed it to sit flat, so the reader could place it on a table or an easel.
The Enabling Garden in Friendship Gardens provides an outstanding example of an accommodating garden, and its guide may have inspired smaller versions of the same at many homes.