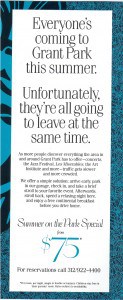 When you operate the largest hotel adjacent one of the nation's top tourist attractions, you don't have to do a lot to entice out-of-town travelers to visit. But what do you do during weekends, when the tourist trade isn't quite so robust?
The Chicago Hilton & Towers Hotel, which sits at the corner of Grant Park, set its sights on the many suburbanites who travel downtown for concerts and other cultural attractions, and Scott Flood created a special tent card to catch their attention.
The card tells them something they already know — that the crowds in Grant Park will be huge — but then tosses in a twist that they may not have considered. After the symphony conductor takes his last bow and after the last fireworks soar over Lake Michigan, the hundreds of thousands of attendees will swarm onto the area's roads.
By reminding this secondary market that the attendees are "all going to leave at the same time," the card implants the idea of walking back to a luxurious room for a restful night's sleep (and a nice breakfast). A special one-night rate sealed the deal — and dramatically increased weekend occupancy that summer.