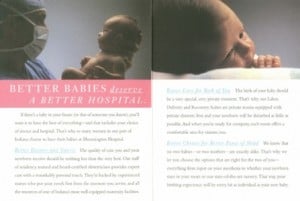 How do you convince mothers-to-be that your local hospital is a better place for giving birth than the big-city hospitals that are just a short (if frenzied) drive away?
Bloomington Hospital faced just that situation in trying to promote its maternity services. They knew that a hospital's image is particularly important when it come to maternity. Parents-to-be labor to choose the right site for their arrivals. With powerful challengers less than an hour away, this hospital needed a campaign that could deliver.
Recognizing that many parents ensure that their kids have the best of everything (and then brag endlessly about it), Scott Flood Writing and  Ten Adams Advertising & Marketing made the hospital a status symbol using two simple words: Better Babies.
We told parents that Better Babies deserved a better hospital, better choices and better care. We extended the message to promote the staff and facilities as the best around. Nine months after the launch, the hospital delivered 10 percent more of those better babies than it had the year before.