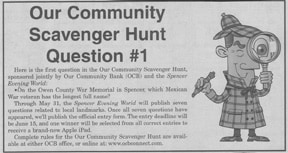 Our Community Bank has been serving Owen County and the surrounding area for more than a century. But in these days of megabanks and cross-county competitors, consumers may be less likely to choose a truly local bank. After all, it's tough to for a smaller bank to catch their attention.
To reinforce the message that OCB has been an important part of the community for such a long time, and that they understand the needs of community residents better than anyone else, we developed an advertising campaign that featured local landmarks. While those landmarks may not have been tourist attractions, they were the source of community pride — such as the bulldog statue outside Patricksburg Elementary School or the giant chicken that once decorated a Spencer eatery.
The campaign caught the eye of local residents, but to make it even more meaningful (and rewarding), we developed a promotion centered on a scavenger hunt. Working with the local newspaper, we identified one question and answer from each of seven communities in the bank's market area. The questions could not be answered without finding and visiting the specified location. For example, the answer to one question could be found in graffiti someone had scrawled inside a covered bridge.
The questions were printed in the newspaper over a three-week period,  and when the last question appeared, entrants could download the entry form from OCB's website. Stacks of entries came into the bank, and one winner from all those with seven correct answers earned an iPad for his family's efforts.
But the best part of the scavenger hunt was the community's response. It gave local residents a reason to hop in their cars and travel around the area, catching up with businesses and other sights they may not have seen in a while. My favorite result involved a group of four women who took a day to find all the answers and recorded the process by taking photos. The newspaper published a full-page photo essay of their efforts. The campaign met the objectives of giving the bank some welcome attention and strengthening its links to the community, but most important, it strengthened the sense of community pride and an appreciation of shared history.